Jaipur, the capital city of the royal state of Rajasthan in India, is a vibrant and culturally rich tourist destination. With its majestic palaces, colorful markets, and fascinating history, Jaipur offers a unique and enchanting experience to travelers from around the world. In this article, we will explore the various aspects of Jaipur, including its history, attractions, culture, shopping, festivals, cuisine, and much more.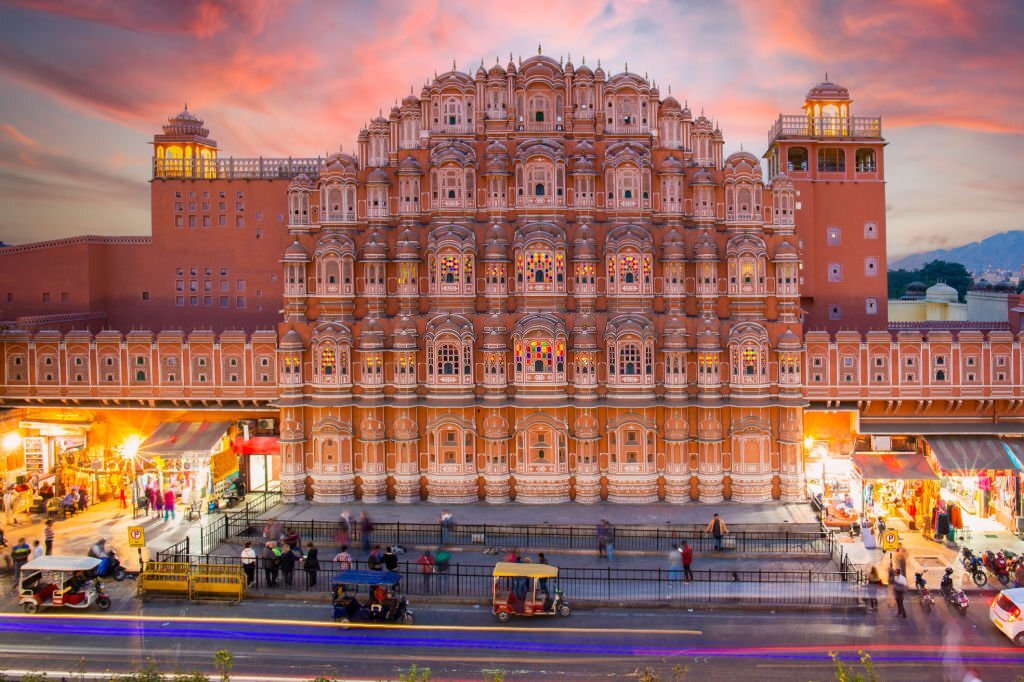 1. History of Jaipur
Jaipur was founded in 1727 by Maharaja Sawai Jai Singh II, the ruler of Amber. The city was planned and designed by Vidyadhar Bhattacharya, an architect from Bengal. It was one of the first planned cities in India, known for its well-laid-out streets, beautiful gardens, and impressive architecture. The city was named after its founder, Maharaja Jai Singh II, and it has been the capital of Rajasthan since then.
2. Geography and Climate
Jaipur is located in the semi-arid region of Rajasthan and is surrounded by hills on three sides. The Aravalli Range provides a picturesque backdrop to the city. The climate of Jaipur is hot and dry, with scorching summers and mild winters. The best time to visit Jaipur is during the winter months, from October to March when the weather is pleasant and suitable for outdoor activities.
3. Top Attractions in Jaipur
Jaipur is home to several magnificent attractions that showcase the grandeur of its historical and architectural heritage. Some of the must-visit attractions in Jaipur include:
3.1 Amber Fort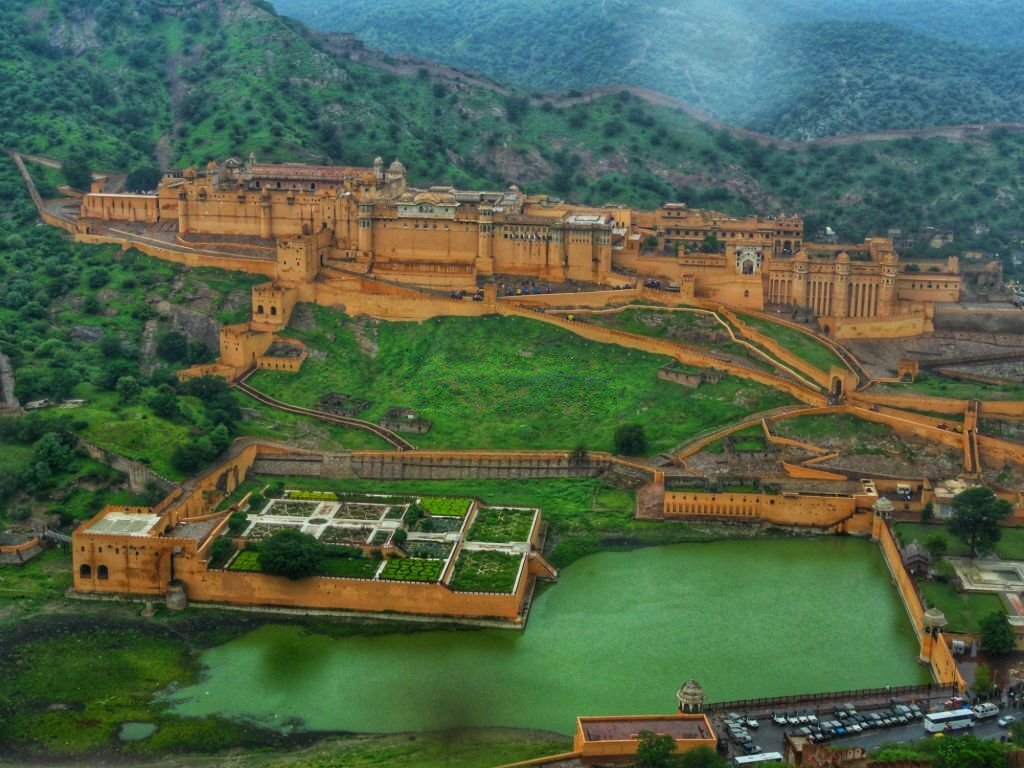 Amber Fort, also known as Amer Fort, is a UNESCO World Heritage site and one of the most popular tourist destinations in Jaipur. It is a stunning architectural marvel that combines elements of Hindu and Mughal styles. The fort is located on a hilltop, offering breathtaking views of the surrounding landscapes.
3.2 City Palace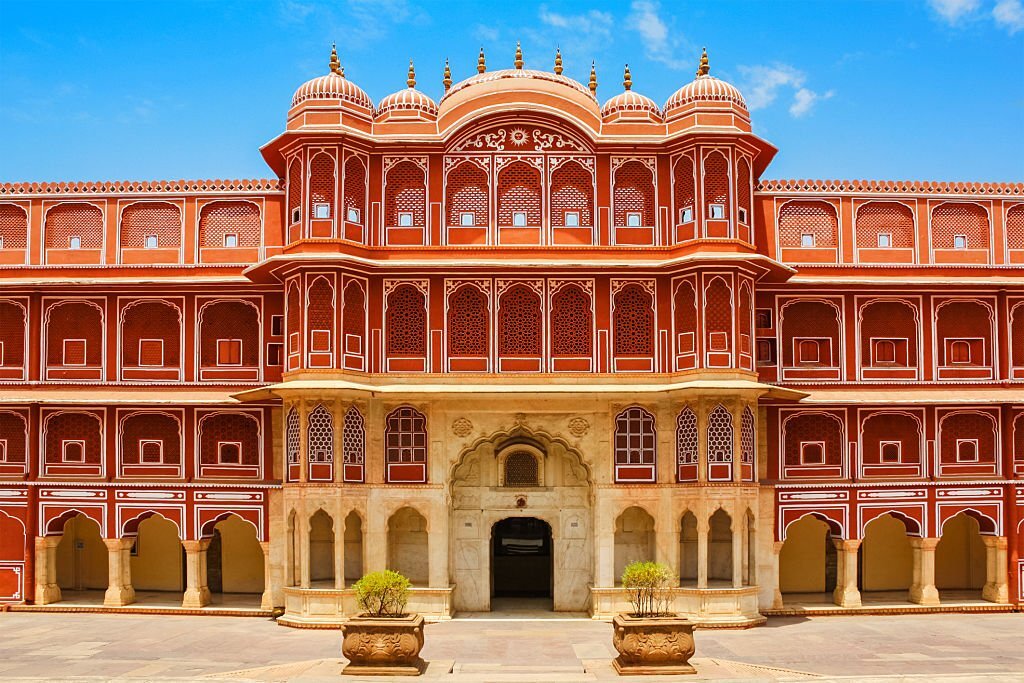 City Palace is another iconic landmark in Jaipur that exemplifies the fusion of Rajput and Mughal architecture. It houses several palaces, gardens, and courtyards, showcasing the opulence and grandeur of the bygone era.
3.3 Hawa Mahal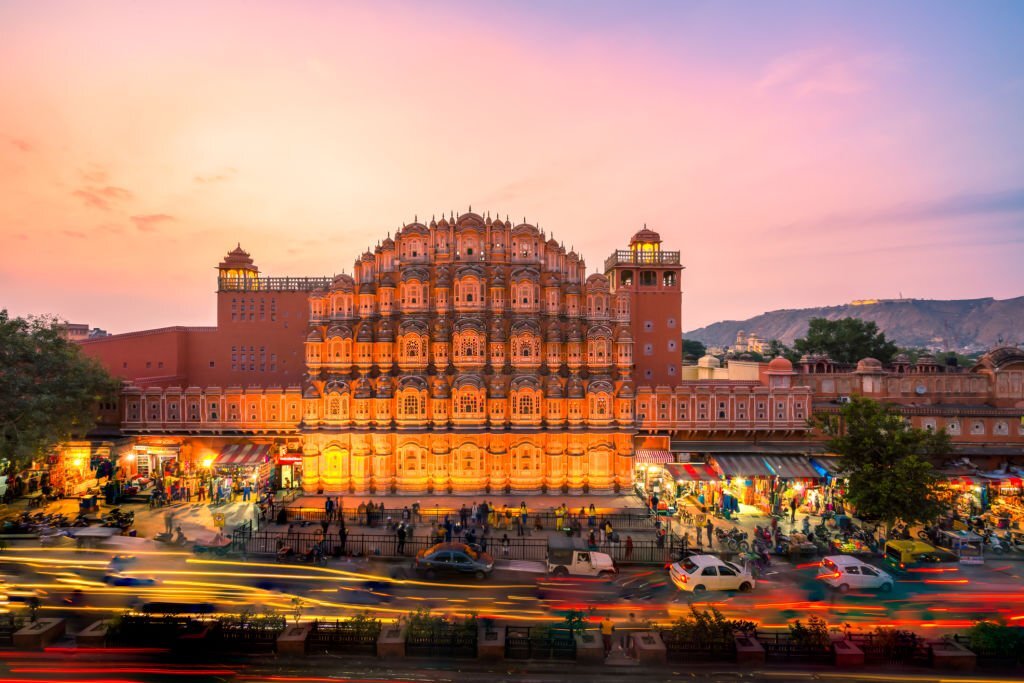 Hawa Mahal, also known as the Palace of Winds, is a unique five-story palace with intricately designed windows that allow the flow of air, keeping the palace cool even during the hot summers. It is an architectural masterpiece and a symbol of Jaipur's rich heritage.
3.4 Jantar Mantar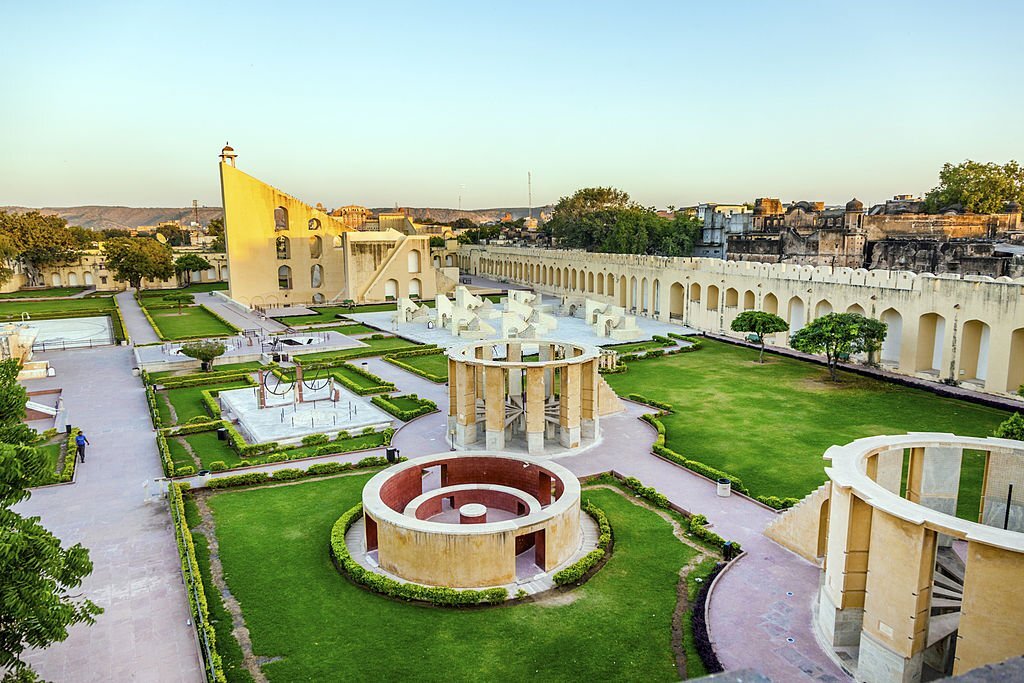 Jantar Mantar is an astronomical observatory built by Maharaja Jai Singh II. It features a collection of nineteen architectural astronomical instruments that were used to measure time, track celestial bodies, and study the heavens.
4. Cultural Heritage
Jaipur is known for its rich cultural heritage, which is evident in its art, music, dance, and festivals. The city is a melting pot of traditions and offers a glimpse into the vibrant Rajasthani culture. Some aspects of Jaipur's cultural heritage include:
4.1 Folk Music and Dance
Rajasthani folk music and dance are an integral part of Jaipur's cultural fabric. The lively beats of the dholak (drum), soulful tunes of the sarangi (stringed instrument), and energetic performances of the Ghoomar and Kalbeliya dance forms leave visitors mesmerized.
4.2 Puppet Shows
Puppetry is a traditional form of entertainment in Jaipur. The colorful puppets, manipulated by skilled puppeteers, tell stories from mythology and folklore, providing a unique and captivating experience.
4.3 Art and Craft
Jaipur is renowned for its exquisite art and craft traditions. The city is famous for its block-printed textiles, blue pottery, miniature paintings, and gemstone jewelry. Visitors can explore the bustling markets and witness skilled artisans at work.
5. Shopping in Jaipur
Jaipur is a shopper's paradise, offering a wide range of traditional handicrafts, textiles, jewelry, and other unique products. Some of the best places for shopping in Jaipur are:
5.1 Johri Bazaar
Johri Bazaar is a bustling market known for its stunning collection of jewelry, including precious gemstones, silver ornaments, and traditional Kundan and Meenakari jewelry. It is a haven for jewelry enthusiasts.
5.2 Bapu Bazaar
Bapu Bazaar is famous for its textiles, including vibrant Bandhani and Leheriya sarees, block-printed fabrics, and embroidered textiles. Visitors can also find traditional mojari shoes, handicrafts, and souvenirs.
5.3 Tripolia Bazaar
Tripolia Bazaar is a treasure trove for antique lovers. It offers a range of antique furniture, artifacts, and handicrafts. The market is also known for its lac jewelry, brassware, and marble sculptures.
6. Festivals and Events
Jaipur celebrates its rich cultural heritage through various festivals and events throughout the year. These festivals provide a glimpse into the vibrant traditions and customs of the city. Some of the major festivals and events in Jaipur are:
6.1 Jaipur Literature Festival
The Jaipur Literature Festival is the world's largest free literary festival. It attracts renowned authors, poets, and intellectuals from around the globe. The festival features panel discussions, book readings, and interactive sessions.
6.2 Teej Festival
Teej is a monsoon festival celebrated by women in Jaipur. It involves fasting, traditional songs and dances, and the decoration of swings. The festival is dedicated to the goddess Parvati and symbolizes marital bliss.
6.3 Elephant Festival
The Elephant Festival is a unique event that showcases beautifully decorated elephants parading through the streets of Jaipur. The festival includes elephant polo, elephant races, and cultural performances.
7. Cuisine of Jaipur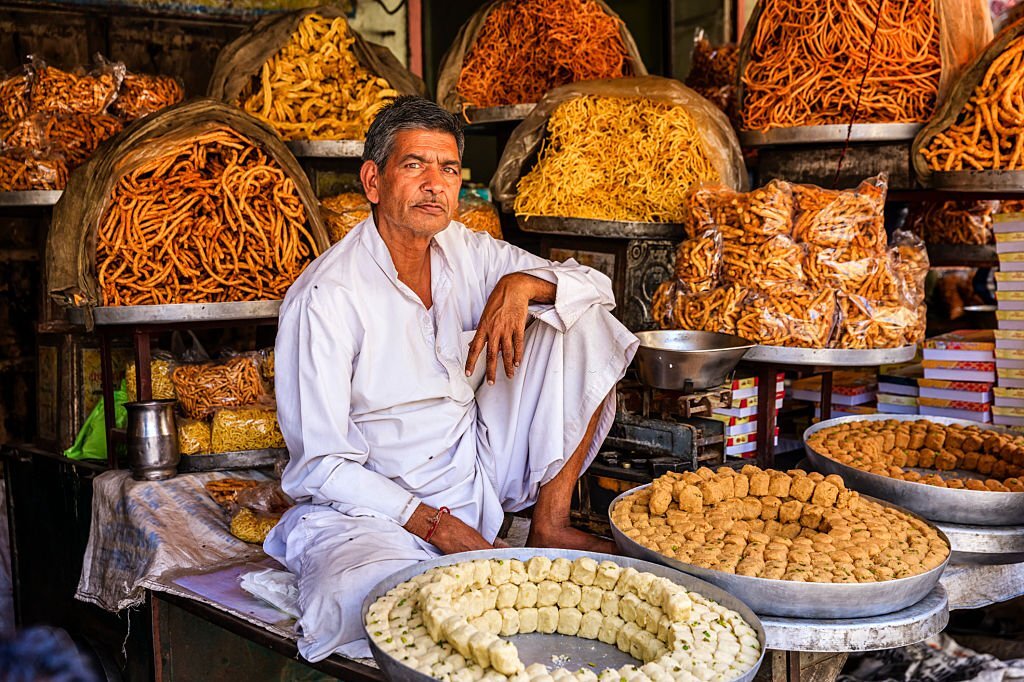 Jaipur's cuisine is a delightful blend of royal Rajasthani flavors and traditional recipes. The city offers a wide range of culinary delights that are sure to tantalize the taste buds. Some popular dishes to try in Jaipur are:
7.1 Dal Baati Churma
Dal Baati Churma is a traditional Rajasthani dish that consists of lentil curry (dal), baked wheat dumplings (baati), and a sweet crumbled wheat dessert (churma). It is a wholesome and flavorsome delicacy.
7.2 Laal Maas
Laal Maas is a spicy meat curry made with tender pieces of mutton cooked in a rich gravy of red chilies and yogurt. It is a signature dish of Rajasthan and packs a fiery punch.
7.3 Ghewar
Ghewar is a popular Rajasthani sweet made with a batter of flour and ghee, deep-fried to a crisp texture, and soaked in sugar syrup. It is often garnished with dry fruits and saffron.
8. Accommodation Options
Jaipur offers a range of accommodation options to suit every budget and preference. From luxurious heritage hotels to budget-friendly guesthouses, visitors can choose from a wide variety of options. Some recommended accommodations in Jaipur are:
8.1 Rambagh Palace
Rambagh Palace is a magnificent heritage hotel that was once the residence of the Maharaja of Jaipur. It offers luxurious rooms, fine dining options, and royal hospitality in a grand setting.
8.2 Samode Haveli
Samode Haveli is a charming heritage hotel located in the heart of Jaipur. It features elegantly decorated rooms, a tranquil courtyard, and a rooftop restaurant serving delectable Rajasthani cuisine.
8.3 Budget Guesthouses
For budget-conscious travelers, Jaipur has numerous guesthouses and budget hotels that offer comfortable accommodations at affordable prices. These guesthouses provide basic amenities and warm Rajasthani hospitality.
9. Transportation
Getting around Jaipur is convenient, thanks to the city's well-connected transportation system. Here are some options for transportation in Jaipur:
9.1 Auto Rickshaws
Auto rickshaws are a popular mode of transportation for short distances within the city. They are affordable and readily available. However, it is advisable to negotiate the fare before boarding.
9.2 Taxis
Taxis are a convenient option for traveling long distances or for exploring nearby attractions. Prepaid taxis and app-based cab services are easily available in Jaipur.
9.3 Cycle Rickshaws
For a unique and eco-friendly experience, visitors can opt for cycle rickshaws to navigate through the narrow lanes of Jaipur's old city. It allows for a leisurely exploration of the bustling markets.
10. Safety and Security
Jaipur is generally a safe city for travelers. However, it is always advisable to take certain precautions to ensure a safe and enjoyable trip. Here are some safety tips for travelers visiting Jaipur:
10.1 Stay Alert
Be aware of your surroundings and stay alert, especially in crowded areas and markets. Keep an eye on your belongings and avoid displaying expensive items.
10.2 Dress Appropriately
Respect the local customs and traditions by dressing modestly, especially when visiting religious sites. It is recommended to cover your shoulders and legs.
10.3 Use Reliable Transportation
Opt for registered taxis or reputable cab services to ensure safe transportation. Avoid traveling alone late at night and always inform someone about your whereabouts.
11. Tips for Travelers
To make the most of your visit to Jaipur, here are some additional tips for travelers:
11.1 Carry Sun Protection
Jaipur experiences hot summers, so it is essential to carry sun protection essentials such as sunscreen, hats, and sunglasses to protect yourself from the scorching sun.
11.2 Bargain in Markets
When shopping in the local markets, bargaining is a common practice. Feel free to negotiate the prices with the vendors to get the best deals.
11.3 Explore Beyond the Main Attractions
While the popular attractions are a must-visit, don't miss out on exploring the lesser-known places in Jaipur. Venture into the narrow lanes, interact with locals, and discover hidden gems.
12. Jaipur for Adventure Seekers
Jaipur offers several thrilling and adventurous activities for adrenaline junkies. Here are some experiences for adventure seekers:
12.1 Hot Air Balloon Ride
Embark on a hot air balloon ride and enjoy a bird's-eye view of Jaipur's stunning landscapes, forts, and palaces. It is a surreal and unforgettable experience.
12.2 Camel Safari
Explore the desert landscapes surrounding Jaipur on a camel safari. Traverse through the dunes, witness mesmerizing sunsets, and immerse yourself in the rustic charm of Rajasthan.
12.3 Zip Lining
Indulge in an exhilarating zip-lining adventure and soar above the breathtaking landscapes of Jaipur. Zip lines offer a unique perspective and an adrenaline rush.
13. Exploring the Surrounding Areas
While in Jaipur, you can also plan day trips to the nearby attractions that offer a glimpse into the rich history and natural beauty of Rajasthan. Some popular destinations for day trips from Jaipur are:
13.1 Pushkar
Visit the holy city of Pushkar, known for its sacred lake and Brahma Temple. Experience the vibrant atmosphere of the Pushkar Fair and explore the colorful markets.
13.2 Ajmer
Ajmer is home to the revered Ajmer Sharif Dargah, a famous Sufi shrine. Pay your respects at the shrine and soak in the spiritual ambiance of the city.
13.3 Ranthambore National Park
Embark on a wildlife safari in Ranthambore National Park, known for its population of royal Bengal tigers. Spotting these majestic creatures in their natural habitat is a thrilling experience.
Jaipur, the Pink City of India, is a vibrant destination that captivates visitors with its rich history, architectural marvels, cultural heritage, and warm hospitality. From magnificent forts and palaces to bustling markets and delectable cuisine, Jaipur offers a diverse range of experiences. Whether you're a history enthusiast, an adventure seeker, or a connoisseur of art and culture, Jaipur has something to offer everyone. Plan your trip to Jaipur and immerse yourself in the enchanting world of this royal city.
Remember to embrace the local traditions, explore beyond the main attractions, and savor the flavors of Rajasthani cuisine. With its timeless charm and royal grandeur, Jaipur promises an unforgettable journey into the heart of Rajasthan.
—
Comprehensive 2N/3D Jaipur Tour Package: Unveiling the Royal Splendor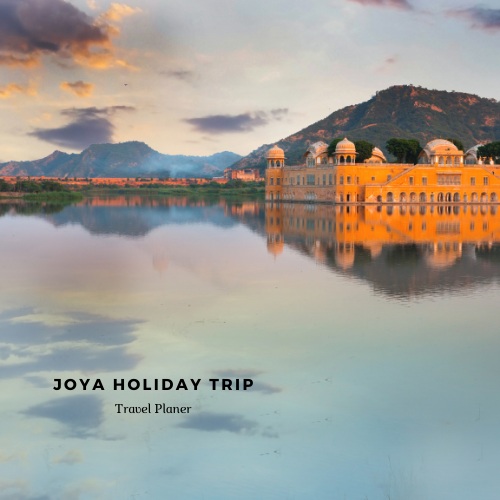 Introduction
Welcome to Joya Holiday's exclusive 2N/3D Jaipur tour package, where we invite you to immerse yourself in the royal splendor of the magnificent Pink City. This meticulously crafted itinerary is designed to offer you an unforgettable experience, blending history, culture, and architectural wonders. Embark on a journey through time as we explore the captivating heritage of Jaipur, the crown jewel of Rajasthan.
Day 1: Arrival and Jaipur City Tour
Upon your arrival at Jaipur International Airport, our friendly and knowledgeable guide will greet you with a warm welcome. From there, we will embark on a mesmerizing city tour, beginning with the following iconic attractions:
Amer Fort
Situated on a hilltop, Amer Fort stands as a symbol of grandeur and opulence. Marvel at its stunning blend of Rajput and Mughal architectural styles as you explore the intricately designed palaces, courtyards, and gardens. Don't miss the chance to witness the enthralling sound and light show that brings the fort's history to life in a captivating manner.
Hawa Mahal
As we move through the vibrant streets of Jaipur, we'll come across the world-renowned Hawa Mahal, also known as the "Palace of Winds." Admire its stunning facade, adorned with intricately carved windows and latticework, which allowed the royal women to observe the bustling city without being seen.
City Palace
Next, we'll delve into the heart of Jaipur by visiting the City Palace, a majestic complex that showcases the rich heritage of the Rajput rulers. Explore its sprawling courtyards, palaces, and museums, each offering a glimpse into the opulent lifestyle of the bygone era.
Jantar Mantar
Our journey continues to Jantar Mantar, an astronomical observatory that dates back to the 18th century. Discover the impressive collection of architectural instruments used to study celestial bodies, showcasing the profound scientific knowledge possessed by royal astronomers.
Day 2: Jaipur's Cultural Gems
Today, we invite you to witness the vibrant culture of Jaipur as we explore its cultural gems and local traditions.
Albert Hall Museum
Begin the day with a visit to the renowned Albert Hall Museum, a treasure trove of art, history, and culture. Admire its impressive collection of artifacts, including ancient sculptures, exquisite paintings, and intricate carpets, all of which provide insight into Rajasthan's rich heritage.
Jaipur's Bazaars
No visit to Jaipur is complete without experiencing its bustling bazaars. Dive into the lively atmosphere of Johari Bazaar, famous for its sparkling jewelry and precious gemstones. Explore Bapu Bazaar, known for its textiles and traditional handicrafts, where you can find beautiful textiles, block prints, and intricately designed pottery.
Chokhi Dhani
In the evening, prepare for a truly immersive cultural experience at Chokhi Dhani, an authentic Rajasthani village resort. Indulge in traditional Rajasthani cuisine, witness captivating folk dances, and enjoy camel rides, puppet shows, and other cultural performances that showcase the essence of Rajasthan's rich traditions.
Day 3: Jaipur's Architectural Marvels
On the final day of our tour, we will explore Jaipur's architectural marvels that showcase the city's artistic prowess and historical significance.
Jal Mahal
We begin with a visit to Jal Mahal, a picturesque palace situated amidst the tranquil waters of Man Sagar Lake. Marvel at its stunning Rajput and Mughal architectural fusion, with four floors submerged underwater, providing a truly enchanting sight.
Nahargarh Fort
Our next destination is Nahargarh Fort, perched on the rugged Aravalli hills. Enjoy panoramic views of the Pink City and its surroundings from the fort's elevated vantage point. Explore the intricately designed rooms, courtyards, and gardens, and immerse yourself in the fascinating tales of royal valor and grandeur.
Jaigarh Fort
Conclude our tour with a visit to Jaigarh Fort, renowned for its architectural brilliance and historical significance. Discover the world's largest cannon on wheels, Jaivana, and explore the extensive network of palaces, gardens, and reservoirs that once served as a strategic defense outpost.
Conclusion
With our meticulously designed 2N/3D Jaipur tour package, we ensure that every moment of your journey through the Pink City is filled with awe, wonder, and discovery. Immerse yourself in the rich cultural heritage, marvel at architectural marvels, and indulge in the vibrant traditions of Rajasthan. Book your tour with Joya Holiday today and embark on a remarkable adventure that will leave you with memories to cherish for a lifetime.
So why wait? Embark on this enchanting journey and experience the royal splendor of Jaipur with Joya Holiday!